Details
Pod Pro Food Safe Sanitiser PP10 is a cleaner sanitiser for kitchen surfaces and equipment. Ideal for food preparation surfaces, chopping boards, etc. Conforms to EN1276 with a 30 second kill time.
Food safe kitchen surface sanitiser, ideal for spray cleaning all hard surfaces in the kitchen and front-of-house. Maintains clean and hygienic conditions by killing 99.99% of bacteria, including MRSA, Salmonella, Listera and E.Coli.
Cleaner sanitiser for kitchen surfaces & equipment
Suitable for food preparation areas
Confirms to EN1276 with 30 second contact time
Great for front of house sanitising & cleaning
Food safe and non-tainting
Odourless formula
Safe for use on all washable surfaces
Just one sachet needed to fill a 500ml trigger bottle (SKU: PP10-TR)
24 Sachets included
Directions for Use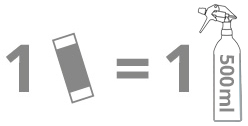 Simple Dose Control:
Add just one sachet to our 500ml bottle and fill with water to create your ready-to-use cleaning solution. Read More.
Shake To Mix:
Our PVOH film sachets dissolve quickly in water, so your cleaning solution is ready to use in seconds. Read More.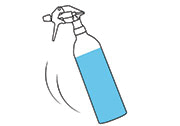 Did You Know?


Most Cleaning Chemicals are 90% Water...
95%

Reduction in CO2

90%

Reduction in plastic

75%

Reduction in cost
Use our sustainability calculator to see the environmental impact switching could have for you!
Specifications
MPN: PP10-24
Capacity: 24 Sachet(s)
Chemical Type: Sachets
Packaging Type: Tub
Downloads